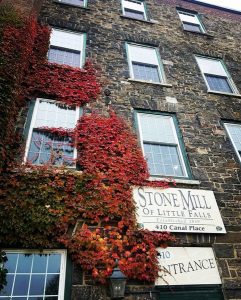 Traveling for work isn't easy, and hotel rooms at the well-known chains all look and feel pretty much the same no matter where you go. Honestly, it can get a little depressing to stay in these bland, impersonal environments every time you're away on business. Learn why The Inn at Stone Mill beats chain hotels…
Many business travelers have found the Inn at Stone Mill to be their answer to the corporate chain blues. One look at the view through the Sheard Suite windows makes the reason clear. The unique architecture, natural beauty, and personal service at the former factory-turned-inn on the Mohawk River beats chain hotels any day. In fact, we've learned that more and more guests are now making a point to schedule their stays at the inn which is conveniently situated between Syracuse and Albany, New York.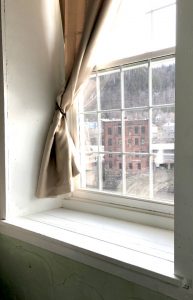 Guest Jeremy Congdon describes the inn this way: "The rooms are bigger than they appear in the pictures, the property is beautiful, the staff is wonderfully helpful and enjoyable. I will not stay anywhere else. Get the Riverview rooms. Sleeping with the sound of the river is amazing." It's true, the flowing river provides a calming, natural white noise and a view that's constantly in motion.
Each guest room is different and owes its name to an interesting aspect of local history. Guests can peruse the website for photos and locations of each room AND read the fascinating origin stories behind their monikers. Even our conference room has personality and lovely views–and is available to rent for meetings.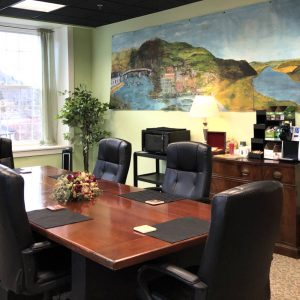 The city of Little Falls is uniquely charming, given its quaint streets lined with local shops and quality eateries, historical richness, and unusual geology. You can grab a coffee and sandwich at the cafe downstairs and pick up souvenirs at the 410 Collective shop. In your downtime, get lost in thought browsing through items at the nearby antique shop, raise a pint at the new Copper Moose Ale House, and finish your workday with a stroll along the Erie canal followed by a fine meal at the Canal Side Inn and Restaurant.
For more options of where to eat, shop and play inside or out, our website is your useful guide for all things Little Falls.
As Fred Farnsworth described his stay at the inn, "Everyone was very accommodating, the rooms were clean and very spacious, and my son's room had an amazing view which I'm sure is so much more beautiful in the spring and summer. We ate across the road at the Canal Side Inn and the food was absolutely amazing. Little Falls is truly a hidden gem in upstate New York."